Attorney Bryan Greenberg Advocates for Workers' Rights at the 2023 FWA Conference In Orlando FL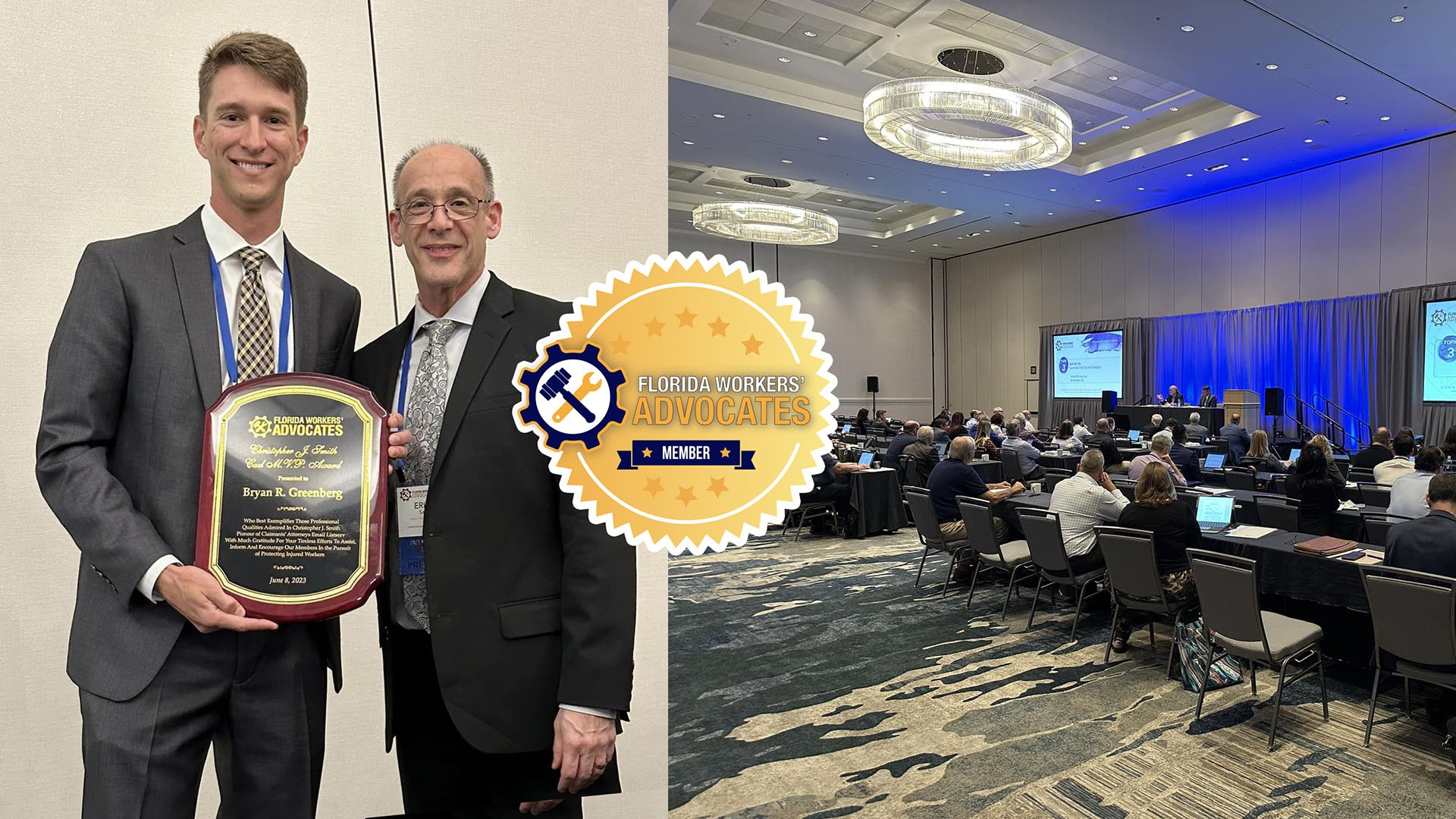 PORT CHARLOTTE, FL, June 12, 2023 - Workers' Compensation Attorney Bryan Greenberg of All Injuries Law Firm presented a CLE lecture at the recent 2023 Florida Workers' Advocates (FWA) Educational Conference. The conference took place on June 8th and June 9th at the Signia by Hilton Orlando Bonnet Creek Resort in Orlando, Florida.
The FWA Educational Conference brings together leading workers' compensation attorneys in the state of Florida, providing an enriching platform for sharing insights, continuing legal education, and promoting fair and just treatment for injured workers. Bryan, a board-certified specialist in workers' compensation and an advocate for the rights of injured and disabled workers, took an active part in the conference's proceedings.
Greenberg, who has been practicing law since 2015 and has garnered top ratings from Avvo and Martindale-Hubble, joined the All Injuries Law Firm in 2017, and has earned a stellar reputation with clients and colleagues for his consistent and exceptional dedication to workers' rights and exceptional client service.
At the 2023 FWA Educational Conference, Greenberg showcased his expertise as part of a distinguished panel of three attorneys. He, alongside Holley Akers, Esq., and Jeff Friedman, Esq., delivered an insightful presentation titled "Seriously Bingeworthy!" This lecture provided invaluable information about recent updates to Case Law in Florida concerning workers' compensation. Greenberg and the panel shared vital details about the outcomes of recent relevant cases and how these rulings may affect future workers' compensation representation.
Continuing Legal Education Credits (CLE credits), approved by the Florida Bar Association, were offered to attendees and participants at the conference. These included a possible, 11 General CLE credits, 1 Ethics CLE credit, and 1 Professionalism CLE credit.
The attorneys at All Injuries Law Firm continues to champion the cause of workers' rights, particularly those injured in the workplace. The firm, based in Port Charlotte, Florida, offers legal services encompassing Workers' Compensation, Personal Injury, and Social Security Disability Disputes.
About All Injuries Law Firm:
All Injuries Law Firm is a Florida-based legal practice, dedicated to serving the people of Florida's southwest coast in areas of Workers' Compensation, Personal Injury, and Social Security Disability Disputes. Their team of skilled attorneys, including the renowned Bryan Greenberg, tirelessly advocates for the rights of those suffering from workplace injuries.
All Injuries Law Firm
2340 Tamiami Trail,
Port Charlotte, FL 33952
(941) 625-4878

More about Attorney Bryan Greenberg